Look what our users have received recently!
We asked our users to tell us about all the great freebies and competition prizes they received in 2011 and here is a selection of the responses!
Lora from Glasgow sent in this photo and said: "This is just a small collection of the beauty freebies and prizes I've received recently. The Herbal Essences and Garnier BB cream sachet came this morning. I can't remember the last time I bought a mascara!"
Clare from Newport told us: "I won this through a Boots competition. I had to review an item in their photo section and I chose the VTech Kidizoom video camera. I almost didn't take part, but am so glad I did! All of the items were quickly put away for Christmas."
Here's a photo Martin from Wickford sent in of him in his "MusucBag"!
Here's a picture from Lynne in Mitcham of the freebies and comp wins she got in just one month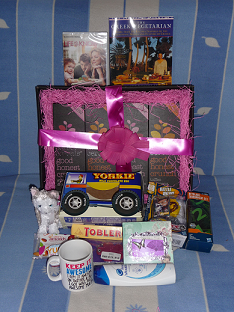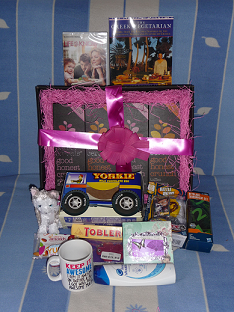 Holly from Maidstone says "The best freebie this year was the iPad I won that turned up yesterday! Merry Christmas to everyone at Freestuff.co.uk!"
Hannah from Sevenoaks told us: "The best competition prize this year and EVER! I won 3 days 5* in Malta VIP for Isle of MTV and I won it on my birthday! This picture is of LMFAO on stage from our view on the VIP platform with free bar and waitress service canapes :)"
Clare from Honiton sent in this pic and said: "One of my competition prizes from this year – a girl can never have too much chocolate"
Melissa from Barnsley says: "This is a photo from when we won tickets to go and see England v Spain at Wembley, and we won, bonus!!"
Gary from Birmingham sent in this photo and said "star prize i won 🙂 merry christmas "
Amy from Stockport won this handmade cushion in a Facebook Competition
Sammine from Sittingbourne says: "This is a picture of the baby bouquet I won earlier in the year, it was a really appreciated prize because our baby girl is due in Jan (3 weeks to go!!)"
Franchesca from Birmingham got sent a free Milky Bar – even the smallest freebies are fun to get!
Yvonne from Liverpool says "This pic is my best win of 2011 – in January, I won £2,000 Virgin Holiday vouchers from Vue Cinemas on Twitter!! Only started comping in December 2010 – had a brilliant year of wins and won lots of lovely things I wouldn't have otherwise been able to afford."
Vivienne from Oldham sent in a picture of this rather unusual freebie! She says: A Shewee for ladies when no toilets nearby. Very useful (NOT)!!!!!!
Here's a picture of Sarah-Jane from Fleet "Enjoying a box at Windsor races for 16 people with full hospitality (worth 3.5K) courtesy of a text comp from a magazine- we had a fantastic day, best prize ever!!!"
George from Cambridgeshire told us about this "massive win I received from House of Fraser – 50 gifts worth £1,700"
Andrea from Northwood told us: "I am a facebook fan and I won delicious cupcakes"
Geogina from Scarborough sent in this picture of some freebies she received and said: "My son loves his sackboy , thank u , fab site 🙂
Here's a photo of Pamela from Machester enjoying a holiday after winning free flights to Gran Canaria!
Emma from Southampton says: "Here is a picture of my two little angels at legoland. I won family tickets here earlier in the year which was my first win and last lol x We were over the moon when I won this and had a great day!"
Heather from Hereford won this Hamper from Otterton Mill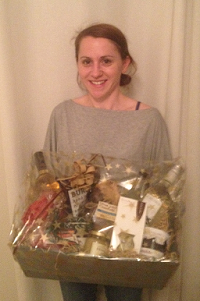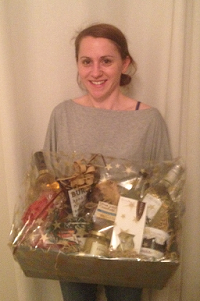 Adelle from Bishop Aukland won this Raleigh Bike
Well done and thank you to everyone who sent in these great pictures.
If you would like to send us some pictures of your freebies or competition wins just click here to do so.